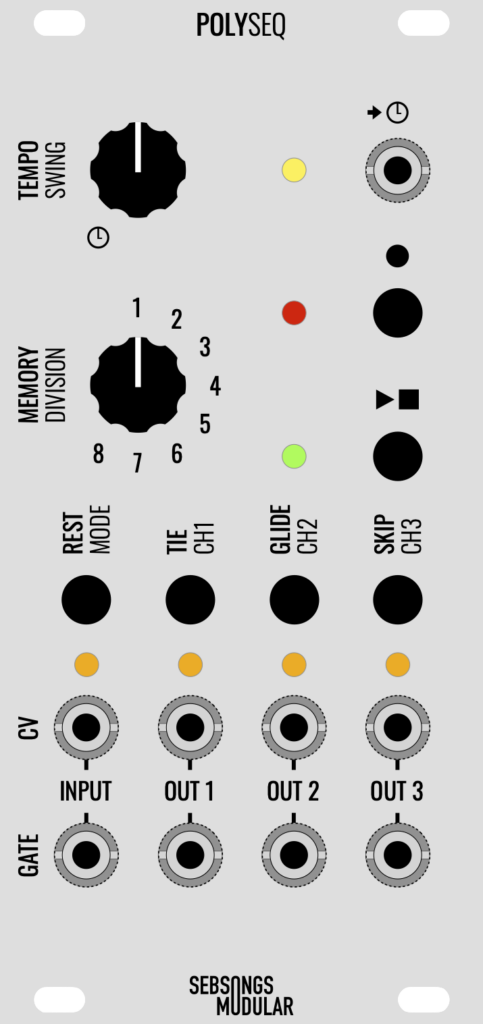 POLYSEQ | FLEXIBLE STEP SEQUENCER
Designed with performance in mind, POLYSEQ delivers a flexible polyphonic step sequencing workflow. Any of the 8 memory slots can be programmed via external CV/GATE up to 64 steps in length. In playback mode, any of the three outputs can play back from any memory slot, making it possible to create polyphonic and polymetric sequences with low effort. POLYSEQ can be clocked internally with swing or externally via the clock input.
Polyseq can be clocked internally (5-300 BPM) or externally. The internal clock has swing from 5 to 95% (Hold MODE and adjust the tempo pot).
Beside CV and GATE, sequences can have rests, ties and glide. There's also a skip function which steps forward in the sequence without overwriting anything. This is handy for editing sequences or changing the sequence length. Each channel can do forward, backward, ping-pong and random playback (Hold MODE and press channel switch to toggle through the modes). Each playback channel can also be clock divided from 1 through 8 (Hold MODE+CH and adjust the memory division rotary switch). Finally, each channel can be  individually muted (Short press on channel switch, latching).
---
---
SPECIFICATIONS
Size: 12 HP
Depth: 26 mm
Current draw: +90 mA / -6 mA
CV input/output range: 0-6V
Gate input/output voltage: 0-10V.
---
RESOURCES
---